Starting at $105 installed.

Compare vinyl prices to popular online DIY boat lettering sources.

Itemized quotes for design, vinyl & installation.
Most boat names are completed in 3 to 10 days.

Installations are typically scheduled from Thursday-Sunday.

Rush orders accomodated as I am able.
How to order and schedule boat lettering ...
Step 1:
Confirm your quote & provide details
Call me at 727-209-7537 or use my contact form to send me an email. I will respond by asking a few questions about your boat name project. I will then email you a solid quote.
Step 2:
Email drafts until satisfied
You will recieve emailed drafts (usually with a number of options) until you are happy with the appearance and layout. Hull mockups are provided with your photo for sizing and placement.
Step 3:
Installation at your location
On installation day, I will bring the Signmobile to your boat's location - where I will make precise hull measurements - cut and prepare your vinyl onsite - prepare the hull as needed - and install your boat name - all in one visit.
Step 4:
Pay with check, cash or credit card
After you are satisfied with my work, I will send you an invoice with payment options. I accept checks, cash or online credit card payments (w/ 3% processing).
--- examples of my work ---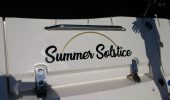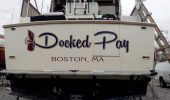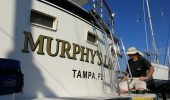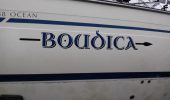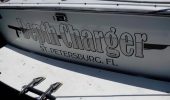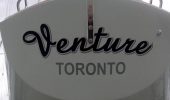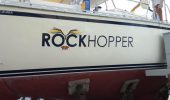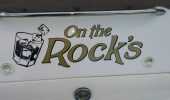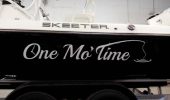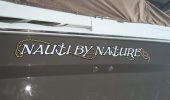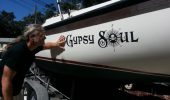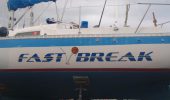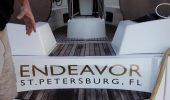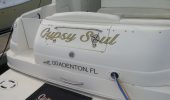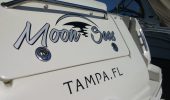 --- pricing examples ---
Instant Online Estimates below.
One Color Boat Name, Installed
You pick the font and choose any standard color - up to 4' long. Any boat on a trailer or with land access.
more
One Color Boat Name
After receiving your choice of letter style, I will cut and prepare the vinyl - and install it at your location (within my Tampa Bay Service Area). You will receive a emailed draft with final sizing for your approval. Fonts can be found online at websites like fontspace.com.

Total: $135.00
(2nd side or 2nd color, add $60)
(out-the-door price)

2 Color, Remove Old & Install New
Includes font choices, email drafts, hull mockups, remove old vinyl, compound/buff hull, install new name.
more
Vinyl Boat Name, Hailing Port, 2 colors, 1 side, Up to 4ft., Removal & Installation
Design:
- font choices, hull mockups, email drafts until satisfied:
$35
Vinyl:
Materials & Prep (cut / weed / tape)
- 1st Color:
$60
- 2nd Color:
$40
Hull Prep & Installation
- remove old name/adhesive, compound/buff hull:
$70
- install new name:
$80
Total: $285.00
(out-the-door price)
-----------
Remove & Install, Floating Platform
1 color name with hailing port, installed w/ floating work platform.
more
Vinyl Boat Name (4ft.), Hailing Port, 1 colors, 1 side, Removal & Installation, On Floating Work Platform
Design:
- font choices, hull mockups, email drafts until satisfied:
$35
Vinyl:
Materials & Prep (cut / weed / tape)
- 1st Color:
$60
Hull Prep & Installation
(on floating work platform)
- remove old name/adhesive, compound/buff entire stern:
$165
- install new name:
$125
Total: $385.00
(out-the-door price)
-----------